1) Songkran
The most well known of all Thai festivals, Songkran is for those who love a good water fight. It's the official Thai New Year landing on April 13th each year and lasting around 2 to 3 days. During the festival, the streets fill up with people looking to soak and get soaked with super-soakers in hand! Water is used as a symbol of cleansing, which is exactly what the Thai want to do to start the New Year.
2) Phi Ta Khon
Phi Ta Khon is a tradition of the Dan Sai district of the Loei Province in Isan. It is better known as the ghost festival since it reflects the regions beliefs on ghosts and spirits. It occurs each year around June/July and is probably Thailand's most colorful festival. Men dress up as spirits in bright colorful costumes and masks. Along with the costumes, there's plenty of dancing and rejoicing.
3) Monkey Buffet
Animals lovers would get a kick out of this bizarre festival. On the last Sunday of November each year, the town of Lopburi shows appreciation to their main tourist attraction, monkeys. They do this by serving a huge buffet of food, solely for the adorable and smart animals. This festivals makes some funny photos!
4) Loi Krathong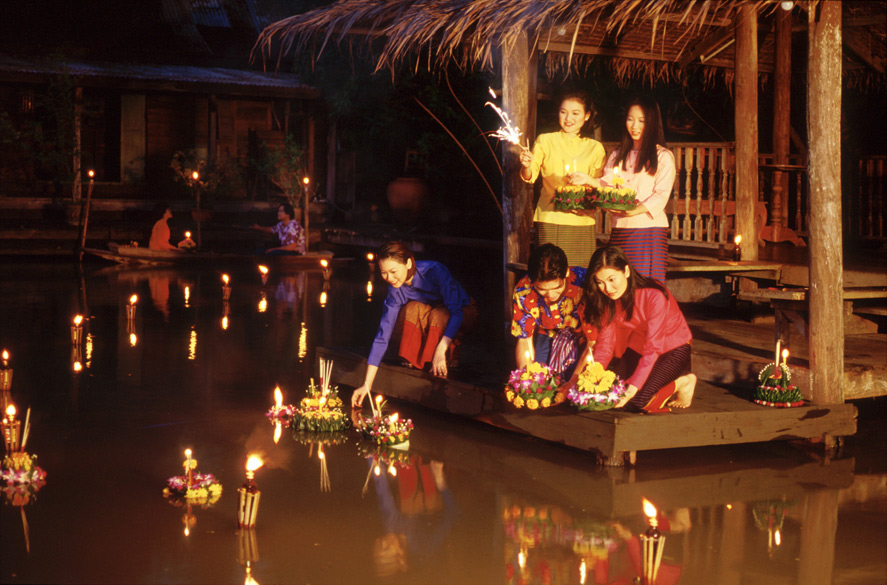 Loi Krathong is celebrated on one night during full moon of the 12th lunar month. 'Loy' signifies 'floating', while 'krathong' is a small object in the shape of a lotis flower, usually made from banana leaves. On the evening of the festival, thousands of people head to their local river or canal to make a wish. They do so by lighting the candle in their krathong and setting it free to float with the current. Truly beautiful.
5) Ubon Ratchatani Candle festival
For art lovers, the Ubon Ratchatani Candle festival is perfect. Held at the start of the Buddhist Lenten period (beginning of August), artists create larger than life wax sculptures as a Buddhist offering. Seventy or so wax creations are then paraded through the streets, amazing all spectators.
Comments Off
Filed under: Uncategorized
Thailand : The Land of Smiles
Thailand is often called the "land of smiles," not only because visitors love its natural beauty and historical riches, but also because of the country's friendly people and fascinating culture. This program is purposely non-narrated, allowing the viewer to focus on the images and sounds of the country, its places and its people. Our visual journey into Thailand begins about 45 miles north of Bangkok in the ancient city of Ayutthaya, which was founded in 1350 by King U-Thong; it was once the capital of Thailand for 417 years and today is one of the country's major tourist attractions; it boasts numerous magnificent ruins, including the Ancient Palace, which was originally built by the first king. Thailand is a Buddhist nation, and because Buddhist values are such a part of daily life here, temples, monasteries and Buddha images are seen everywhere. Next we visit Pattaya; located on the east coast of the Gulf of Thailand, it is a very popular center of tourism visited by millions yearly. 30 miles away is the Sriracha Tiger Zoo, an incredible animal kingdom where we see piglets that sleep with a mother tiger; also we see crocodiles, the "Scorpion Queen" and an Elephant Museum. Next we visit world famous Phuket with its glorious beaches, unrivaled marine life, performing elephants, a monkey that gathers coconuts, and delicious cuisine. For a slower pace we travel next to the relaxed east coastal towns of Cha-am and Hua Hin, elegant, well-established beach destinations, where we too find beautiful waterfalls and natural beauty, and the Sasi Garden Theater, which presents a genuine "Taste of Thai Culture and Tradition." Lastly, we indulge in the secluded and luxurious world of Chiva-Som, a private resort that provides everything to assure health and relaxation.
Filed under: Uncategorized